2022-08-26
The San Sebastian Film Festival selects 17 Basque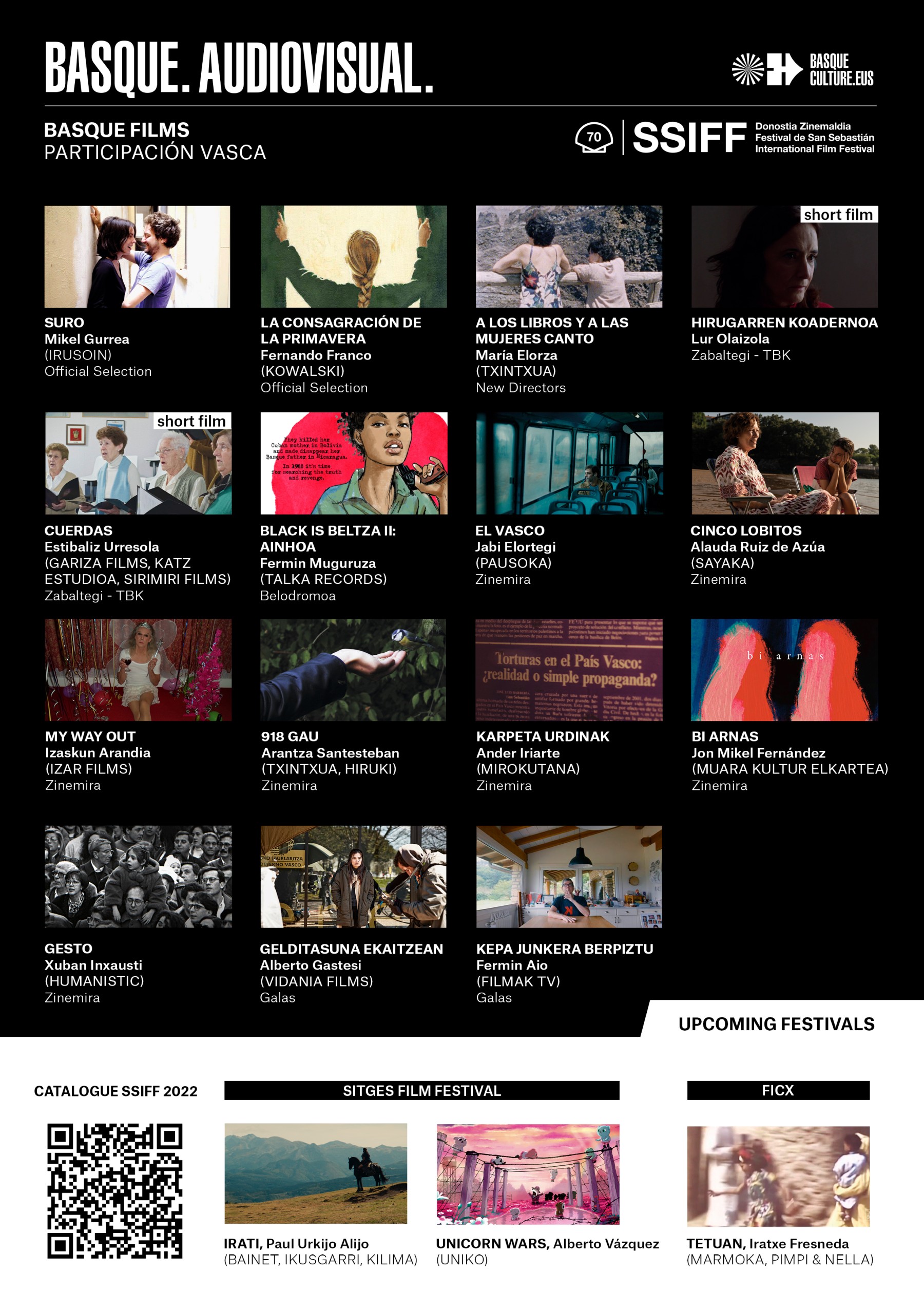 We're getting closer to the San Sebastian Film Festival, one of the film world's most important events on the calendar. This year, Basque film will once again flex its muscle with an impressive showing, providing further proof of the Basque sector's excellent creative streak. In total there are 17 works that the San Sebastian Film Festival has selected for its seventieth edition.
Two Basque films will be among those competing for this year's Golden Shell award. One of them is 'Suro / Cork' (Irusion), the first full-length feature film from San Sebastian-born director Mikel Gurrea. The film narrates the story of two parents-to-be that decide to leave the city and begin a new life together in the cork oak forest. The other is Fernando Franco's latest work, 'La consagración de la primavera / The Rite of Spring' (Kowalski Films), which is a story about that vital moment in which everything is possible, and how the most unexpected encounter can change our lives.
Within the New Directors category, we will have the opportunity to enjoy 'A los libros y a las mujeres canto / To Books and Women I Sing' by María Elorza and Txintxua Films. Following prestigious accolades including the Best Project Award at the ZINEBI Networking professional forum and the Malaga Film Festival - WIP Spain Award, the Alavés-born director will hold her film's world première in San Sebastian. For its part, Zabaltegi – Tabakalera will welcome 'Cuerdas / Chords' (Gariza Films), the short film directed by Estíbaliz Urresola that comes to San Sebastian after receiving the Rails d'Or at the Cannes International Critics' Week, as well as 'Hirugarren koadernoa / The Third Notebook' by Lur Olaizola. It should be noted that both pieces have been selected for this edition's Kimuak catalogue, which is overseen by Zineuskadi this year.
Before hitting cinemas this 30 September, the Antonio Elorza Velodrome will host the world première of 'Black is beltza II: Ainhoa', the second instalment of the Fermín Muguruza-directed film co-produced by Talka Records and Argentine production houses Lagarto Films and Draftoon Studio.
Also part of this seventieth edition is ZineMira, the category dedicated to Basque film organised by the San Sebastian Film Festival and the Basque Government Department of Culture, with sponsorship of Irizar and EITB, and the collaboration of the Basque Film Archive, EPE/APV, IBAIA, and Zineuskadi.
This section will treat us to one of the year's most successful works on both a national and international level: 'Cinco lobitos' (Sayaka Films), the début feature from Alauda Ruiz de Azua. And we can't forget about 'El vasco', the international co-production from Pausoka directed by Jabi Elortegi, and 'My way out' (Atera Films), a documentary from Izaskun Arandia about London's 'The WayOut' transgender club. We will also have the opportunity to enjoy '918 gau / 918 Nights', produced by Txintxua Films and Hiruki Filmak, which was born out of the namesake project developed at Ikusmira Berriak 2018. Arantza Santesteban's film has received many awards both at home and abroad.
In addition, we will discover the latest work from Ander Iriarte together with Mirokutana, 'Karpeta urdinak / Blue Files', which is a documentary that narrates the results of a study on torture directed by forensic doctor Paco Etxeberria. 'Bi arnas' from Jon Mikel Fernández and Muara Kultur Elkartea also takes up the topic of torture in the form of a documentary with two protagonists: a mother, Maria Nieves Díaz, and her tortured daughter, Iratxe Sorzabal Diaz. Likewise, 'Gesto' from Xuban Inxausti presents the historical memory of the Basque citizens that fought against violence, through the story of the Gesto de la Paz.
What's more, during the galas being held throughout the week of the festival, there will be screenings of 'Gelditasuna ekaitzean', the début feature from Alberto Gastesi (Vidania Films) that explores the love story between two people whose lives could have taken different paths under other circumstances, and the première of 'Kepa Junkera. Berpiztu' (Filmak TV) from EiTB. In this documentary, Fermin Aio collects the memory and work of the trikitixa player who saw his career interrupted after suffering from a stroke in 2018.
For its part, the international short film competition for film students, the Nest section, will feature the participation of 'Erro bi', by Nagore Muriel Letamendia, a short film directed by a student from the Faculty of Social Sciences and Communication of UPV/EHU. Likewise, 'Noizko basoa', by Mikele Landa Eiguren, will be released, a short film presented by Elías Querejeta Zine Eskola (EQZE), a school promoted by the Provincial Council of Gipuzkoa and in which Donostia Zinemaldia, Tabakalera and the Basque Film Library participate.
Other activities
The Zinemira Award of this seventieth edition will go to the figure of Txema Areizaga, head of electrical equipment who died last year, and will serve to pay tribute to the group of professional film technicians.
In addition to the 17 films selected for the festival, seven short films that comprise this year's Kimuak catalogue will also be shown: the previously mentioned 'Chords' and 'Hirugarren koadernoa', 'Contadores' from Irati Gorostidi, 'Fe' from Maider Fernández, 'Hemen bizi da maitasuna' from Ainhoa Olaso and Enara García, 'Irrits' from Maider Oleaga, and 'Lanbroa' from Aitzol Saratxaga.
Likewise, the Lau Haizetara Documentary Co-Production Forum, organised by IBAIA and in collaboration with the San Sebastian Film Festival, will be held from 19 to 21 September after having selected three Basque projects to participate in this year's edition: 'Flying hands' (Al borde films), 'If you wish to make an apple pie' (IZAR Films and El Santo Films), and 'Y punto' (Ínsula Sur and Mirokutana).
Lastly, the festival has launched a new offering this year in the form of the Creative Investors Meeting, having selected three Basque projects for the occasion: 'Baleazaleak / Whalemen (At the ends of the Earth)' from Baltasar Kormákur and production house Euskadi Movie, 'Karmele' from Asier Altuna and production house Txintxua Films, and 'Una ballena / A whale' from Pablo Hernando and production house Señor y señora. Likewise, Irati Gorostidi will show 'Anekumen' to representatives of the film indlustry, a project that she has developed in the Ikusmira Berriak residences.