2023-06-01
Call for entries for the CIMASUB 2023 competition is now open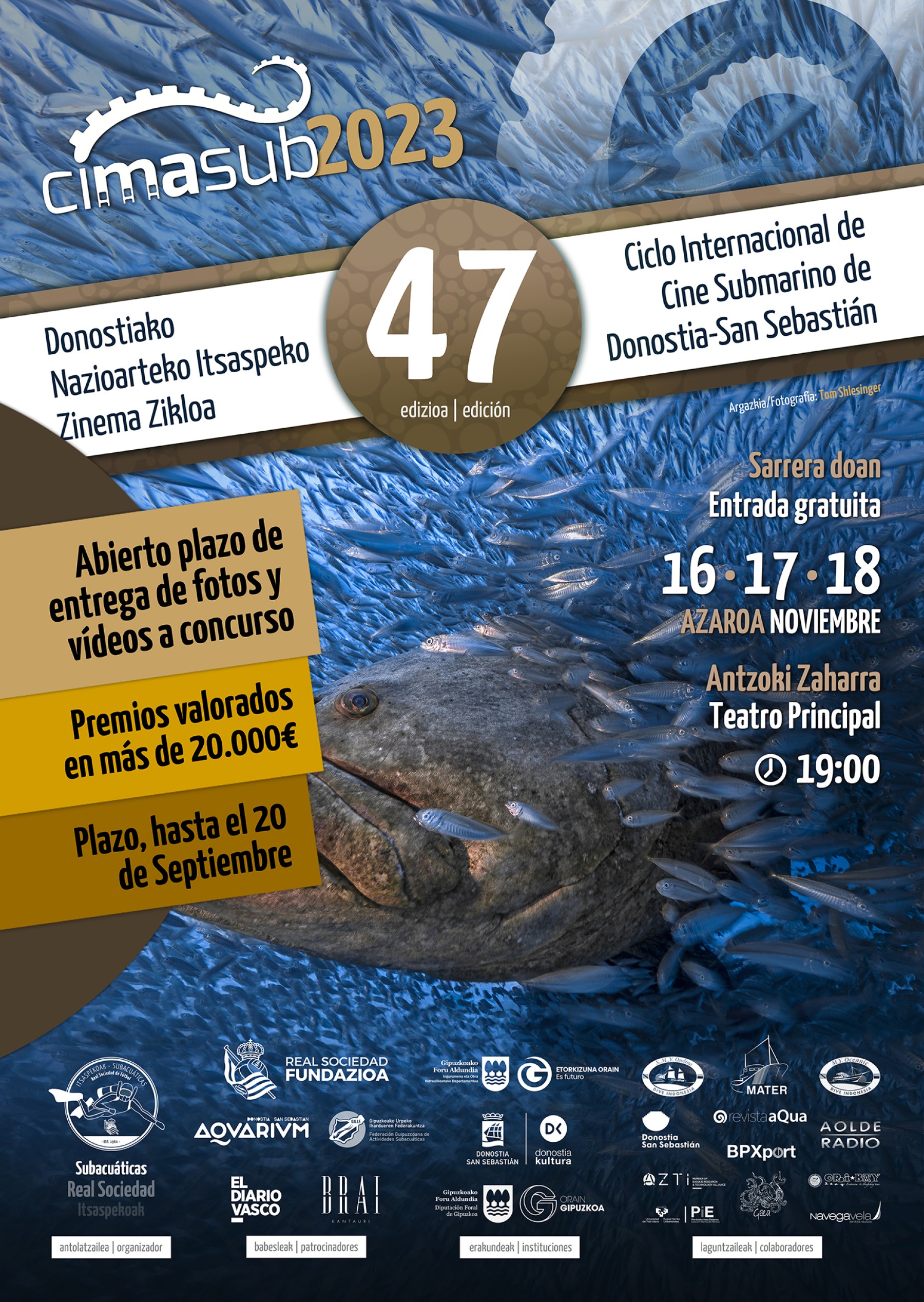 The competition for the 47th edition of the San Sebastian International Underwater Film Festival, CIMASUB 2023, is now underway. The deadline for submitting entries to the competition is officially open, with a deadline of 20 September 2023. You can now submit photo galleries, short films and documentaries to participate in our competition.
We have an edition with many surprises and with economic prizes, trips and great experiences, valued at more than €20,000. We maintain the usual categories documentaries, musical short films, short films with voice-over, photo galleries. All with prizes for the best work and the best in ecological awareness, from the Cantabrian Sea, made by women, by promising young people, special prizes from the jury, etc. We place no limits on rewarding the talent, originality and high technical level with which you pleasantly surprise us every year.
This year we have, among others that we will be telling you about, several important and remarkable novelties:
For the best ecological awareness photographs, in this edition we will award the best photograph instead of the best gallery. The aim is to allow a larger number of photographs to participate in this category. This means that all those photographs participating in the competition will have a chance to win this prize. If they are photographs with a clear character of ecological denunciation, and you want them to participate in this category, you can indicate it at the moment of sending them.
In addition, after the success of last year's edition when we joined the Filmfreeway festival participation platform, we continue to offer the option of submitting short films and documentaries using this platform. However, in order to make a filter and avoid receiving many works that do not comply with the rules of our competition, we have added a participation fee depending on the date of submission. However, for all participants who already belong to the CIMASUB family, we have created a code to make the submission free of charge: CimasubFamily . Of course, as always, there is also the option to enter the competition using the form on our website, which is completely free of charge.
Finally, and very importantly, this year we have a jury made up of a larger number of judges. All of them are professionals in the underwater image sector, with a long career and a great reputation and prestige demonstrated in numerous festivals, championships and works carried out at an international level. Over the next few months we will be presenting them as they deserve.
CIMASUB 2023 will be held on 16, 17 and 18 November 2023. From the organisation of CIMASUB we continue working to achieve our main objectives. To raise awareness of the seabed, with all its beauty, but also with all the suffering we are causing it. To make our public fall in love with underwater life and to denounce the serious state of our planet's oceans.
We wish with all our strength to bring the best and most passionate underwater photographers and videographers in the world together again this year in San Sebastián. Enjoying and learning together with the best of the underwater image on the big screen of the Teatro Principal, enriching days in good company, in front of the good food of San Sebastian and our wonderful city.
In the following links you can access all the information about our competition:
Thank you all for your participation. We hope that the quality of your work will surprise us, as it does every year, both the organisers and the large audience that year after year comes to enjoy your wonders.